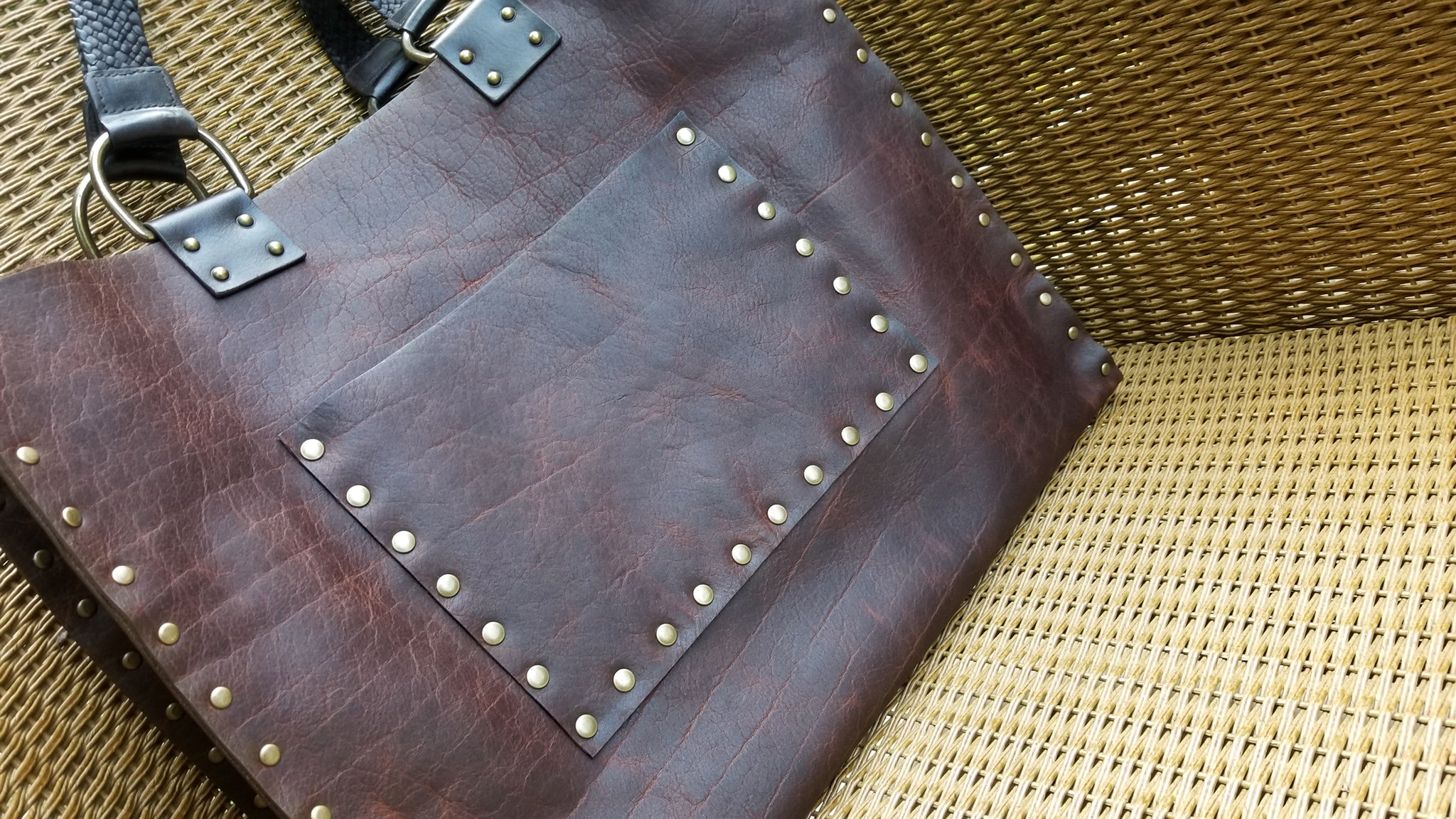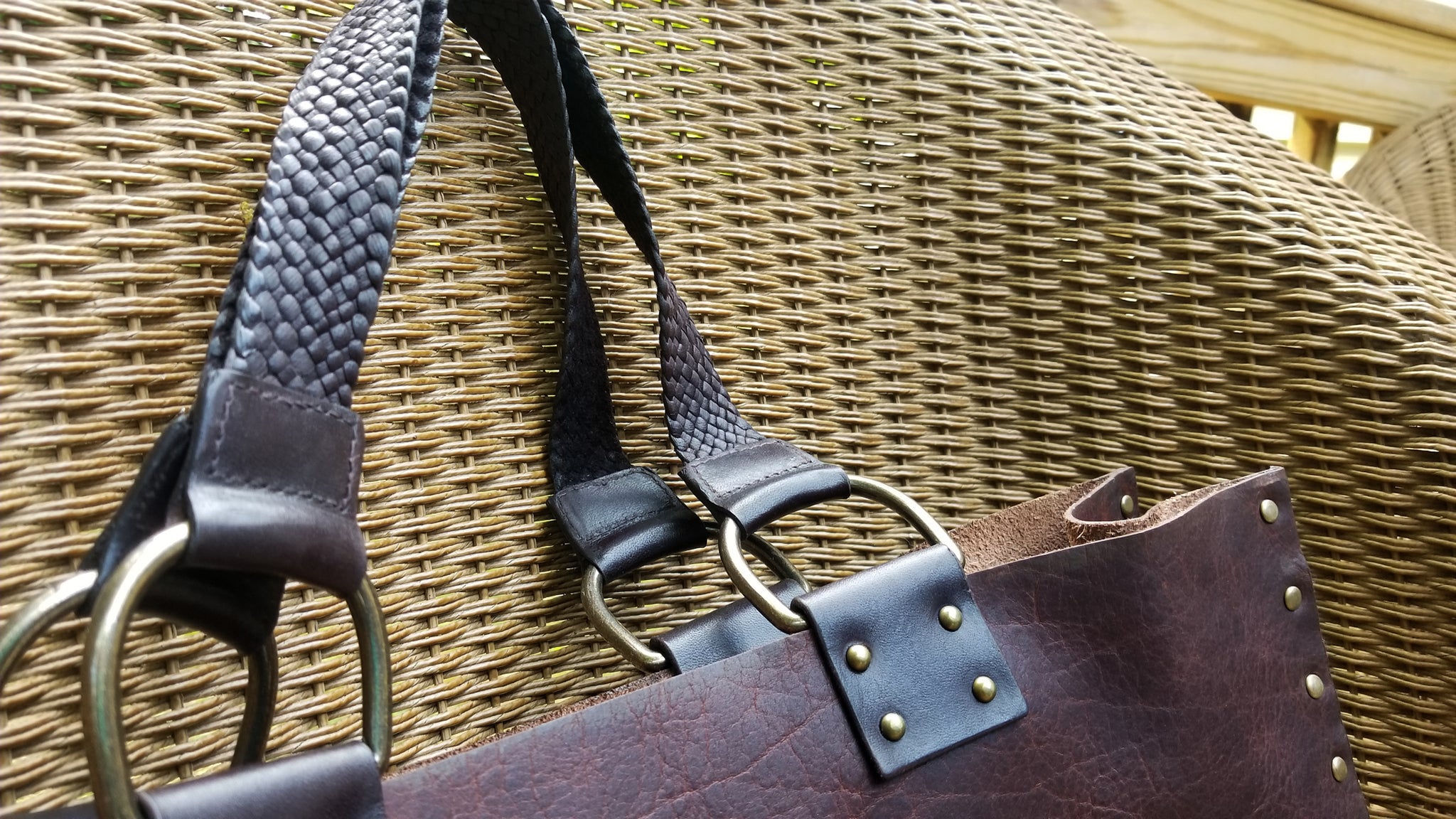 ◘ M A L I A ◘ [queen]
Legendary for their power, the Queens of Africa were women who led Kingdoms with nobility and quality of character. My Malia Tote; its style is noble and the workmanship is of superior quality.
Malia is made entirely by hand in my New Hampshire shop, including its gorgeous, braided leather strap handles which alone take up to 8 hours to complete. Constructed from a combination of lux Deerskin Leather and durable California Latigo leather, these handles are able to support more weight than you are able to carry. The texture of the braid compliments the unique grain and finish of the Navajo Bison which ages beautifully. Malia's solid brass hardware was selected for its grand style and impeccable quality. There is no skimping here; in style, function and durability.
Matching Malia Wristlet is sold separately. Both Tote and Wristlet can be purchased  here.
The Details...
An original and unique design.
Handmade in my New Hampshire shop.
Constructed with 3.5 - 4 ounce genuine Navajo Bison Leather; incredible pull-up color and quality, beautiful character and grain, easy to maintain.
Front, back and bottom of the tote is one solid piece - a seamless design for durability and strength.
Side panels of the tote are designed to maintain the tote's shape, riveted by hand for strength and durability.
2 - 1.5" wide hand-braided, deerskin leather carry handles with 3-4 ounce California Latigo leather end cap construction, designed and crafted to last a lifetime and are gorgeous. 
Approximate handle drop is 10"; long enough to carry over the shoulder and short enough to carry in hand.
Solid brass hardware throughout for style and longevity.
A large outside pocket to carry your extra goodies is riveted in place for style, functionality and durability. 

A large inside pocket with D-Ring to clip your keys or wristlet is riveted in place for style, functionality and durability.

Inside bottom of tote is lined with 3 - 4 ounce matching California Latigo leather for contents support and to maintain the tote's shape.
3/4" wide, generously long, over-the-shoulder, carry-strap is hand constructed with 3-4 ounce matching California Latigo leather; 2 - swivel snap hooks to attach to the tote, and a solid brass buckle makes it adjustable. 
All edges are finished for uniformity and polish.
Approximate measurements: 16" wide, 14" tall, 6" deep.
Available in the colors; Canela (as shown in the photographs) and Black.
Artfully assembled ~ Beautifully crafted ~ Heirloom Quality
Lux Leather...
Navajo Bison Leather is a superb veg tanned American Buffalo with a beautiful shrunken grain, unique character, and soft subtle feel. Its pull-up leather and color ages gracefully and is easy to condition and maintain. Because the skins are not stretched during the tanning process, Bison leather is strong and durable ~ 40% percent stronger than cow leather. In addition, it is resistant to tearing, stretching, ripping and water as well as penetration by dust and dirt. Bison leather when cared for properly, will last for decades. 
Deerskin is very high quality and versatile leather. It can go from being wet to dry over and over again and it still will conform back to it's original condition. It is a very soft and supple leather yet deerskin's leather fibers make it abrasion resistant and give it high shear strength. It is also extremely comfy to wear in any temperature; it becomes cooler in warm weather and warmer in cold weather. Definitely a luxurious and fun leather to design with, craft with, and wear.