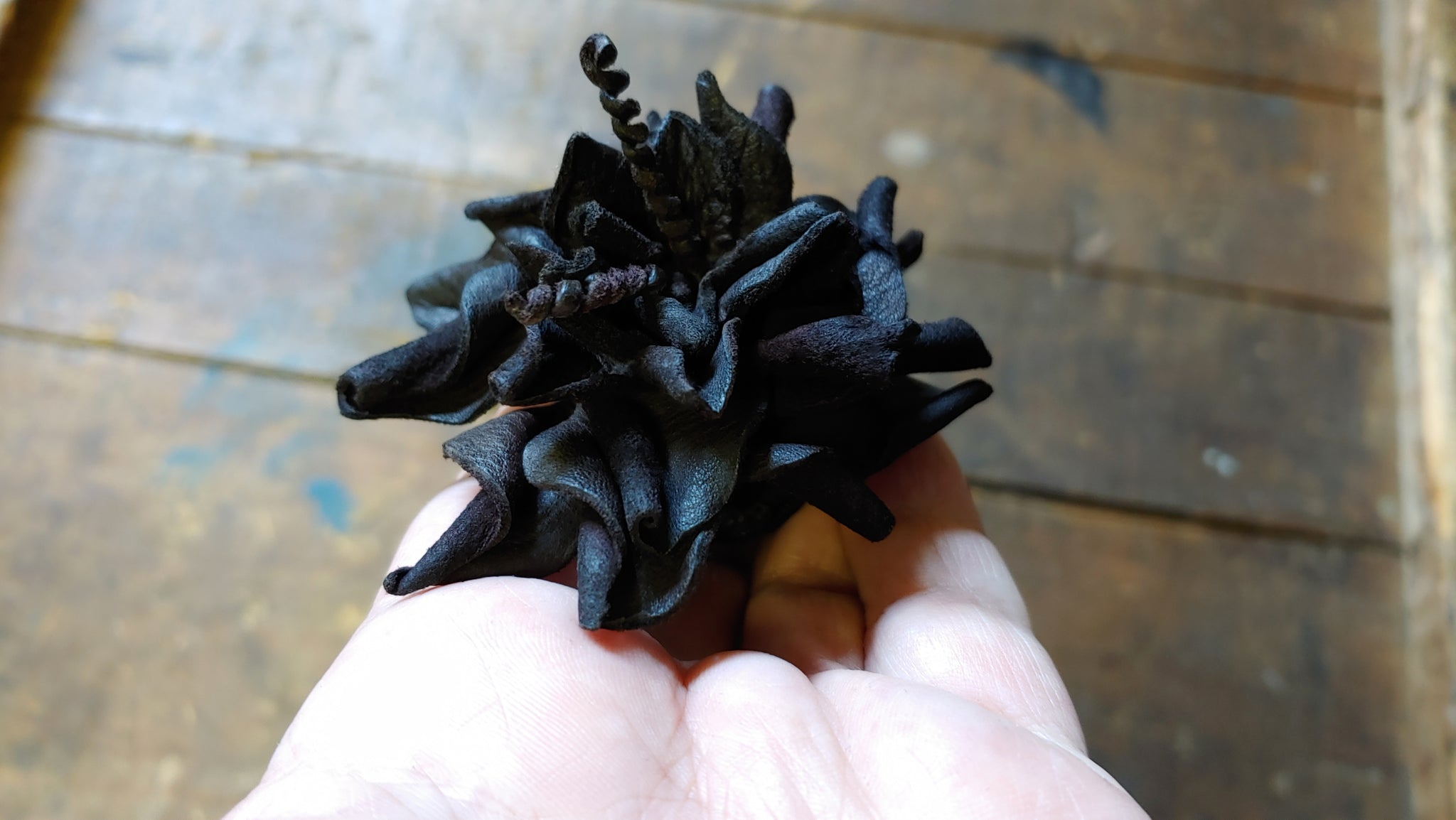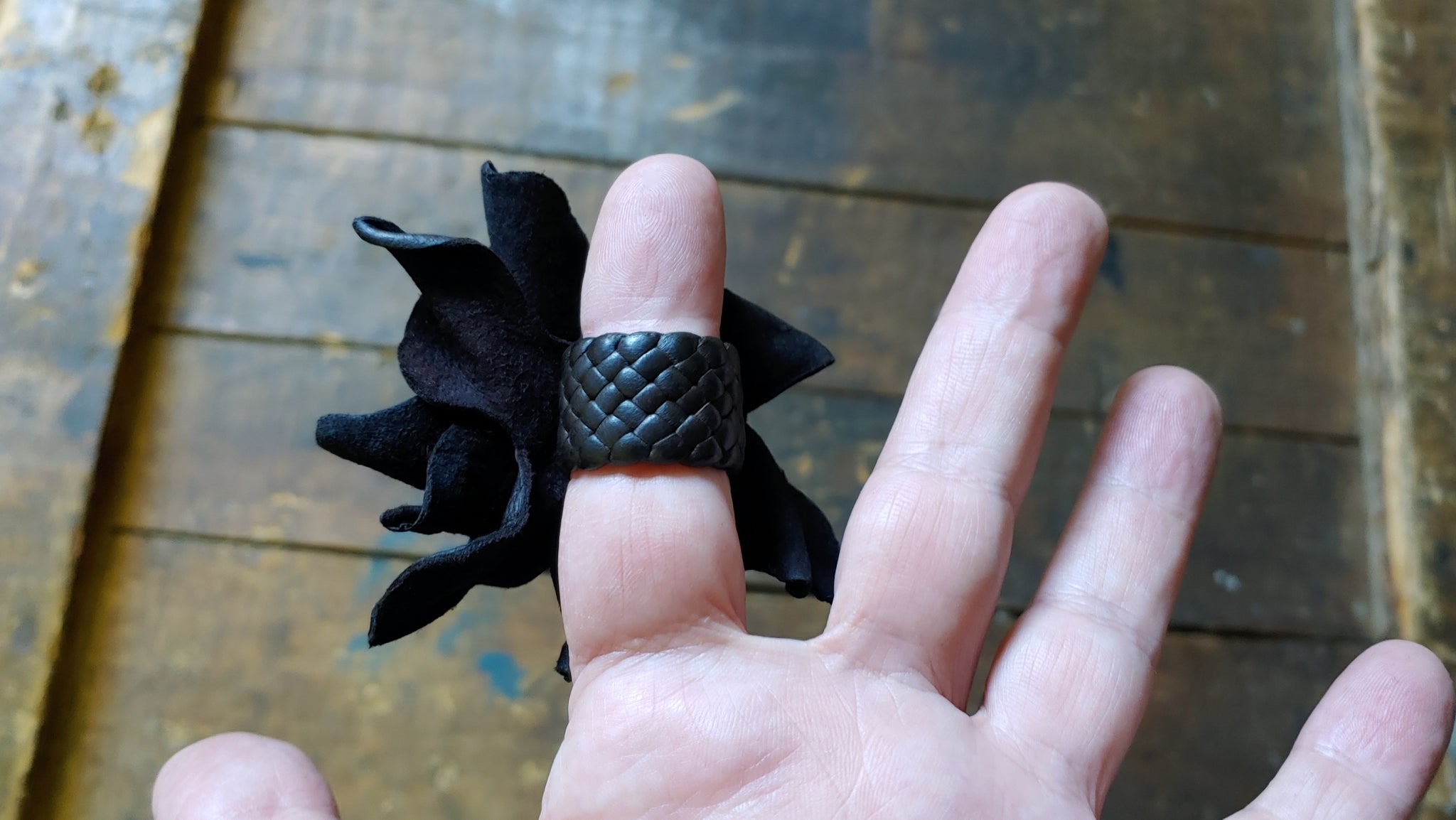 ◘ A Y A N A ◘ [beautiful flower] 
Africa is home to many species of beautiful flowers and Ayana is my "leather" version. A single flower that will last forever, is created with the careful cutting and manipulation and molding of leather....a gentle reminder that we are all blooming spirits. A leather flower ring that is perfect for gifting; as an expression of a blossoming love and adoration for another, a gift for her for Valentine's Day, for wedding and bridal party gifts, for your flower girl, and the gypsy bride.
NOTE: If your size isn't listed in the drop down boxes, please email me with your special sizing request, or choose any size in the drop downs and during checkout, leave me a note with your sizing request. 
The Process...
The Details...
Each and every ring is handmade to order to your specifications and takes hours to create.
Handmade from luxurious deerskin 

for durability and longevity.

Each petal is cut by hand ~ free style ~ no pattern, template, or machinery is used so just like nature, no two flowers will ever be exactly alike.
Each petal is molded and formed by hand to replicate the delicate petals of a flower.
The petals are carefully and creatively hand assembled to form a flower.
Each flower is attached to one of my Kama Braided Leather Rings for durability and longevity.
From start to finish, truly a work of art.
Available colors: Black, Chocolate, Mayonnaise, Mahogany, Beige, Turquoise, Lipstick Red, Sapphire Blue.
Available in multiple sizes ~ custom sizing welcome.
Artfully assembled ~ Beautifully crafted ~ Heirloom Quality.
Should you want to purchase these leather beauties for your wedding party or event, please email me to discuss your needs. Quantity discounts may apply.   
Because You Asked...
Go to, how to measure to find an

 

International Ring Size Conversion Chart, measuring tips and tricks, and for ideas of how to get the right measurement when surprise gifting an Ayana and or Kama Ring.
If you are unsure of your ring size, you can have your finger measured at a local jeweler or, you can purchase a

 

Ring Sizer.
Because my Ayana and Kama Braided Leather Rings are made with 100% genuine deerskin, they do hold up extremely well to water, food, hair products, etc., however, they are not indestructible and the more careful you are with your ring, the longer it and its newness will last..  More care instructions.
Lighter colors of leather may darken with age, dirt, soaps, oils, body chemistry. More care instructions.

The colors represented in the listings are as accurate as possible. Please note that the colors of the leather hides will differ from dye lot to dye lot. If color is of concern to you, please email me to request a cutting from my current leather stock.

Due to the variations in size, all leather rings ordered online are considered special orders and are not returnable.
Lux Leather...
Deerskin is very high quality and versatile leather. It can go from being wet to dry over and over again and it still will conform back to it's original condition. It is a very soft and supple leather yet deerskin's leather fibers make it abrasion resistant and give it high shear strength. It is also extremely comfy to wear in any temperature; it becomes cooler in warm weather and warmer in cold weather. Definitely a luxurious and fun leather to design with, craft with, and wear!!
On the Model...