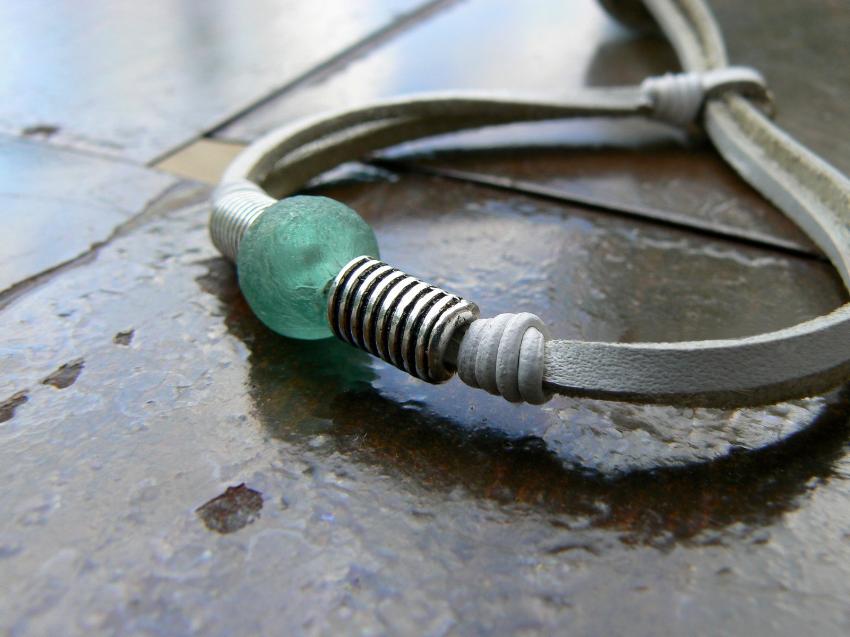 ◘ P O W A ◘ [wealthy]
A primitive yet elegantly tribal, adjustable leather bracelet that is a beautiful juxtaposition of glass, metal and leather; one handmade, semi-translucent African recycled glass bead nestled between two metal coil beads and hand-strung on a Latigo leather cord.  Powa is a great bracelet for stacking with some of my other leather goodies. Suitable for both men and women.
The Details...
Original design
Sturdy genuine latigo leather lace; Brown, Black or White
African glass bead; Aquamarine or Bluish-Charcoal
Two coil beads; Antique Brass or Silver
Original sliding knot and Ethiopian bead closure
Fully adjustable leather bracelet (larger wrists, please include your wrist measurement when placing your order)
Old West African Tenth Penny Coin embellishment
Artfully assembled ~ Beautifully crafted ~ Heirloom Quality

POWA stacks perfectly with my YUKI hand-braided leather bracelet.