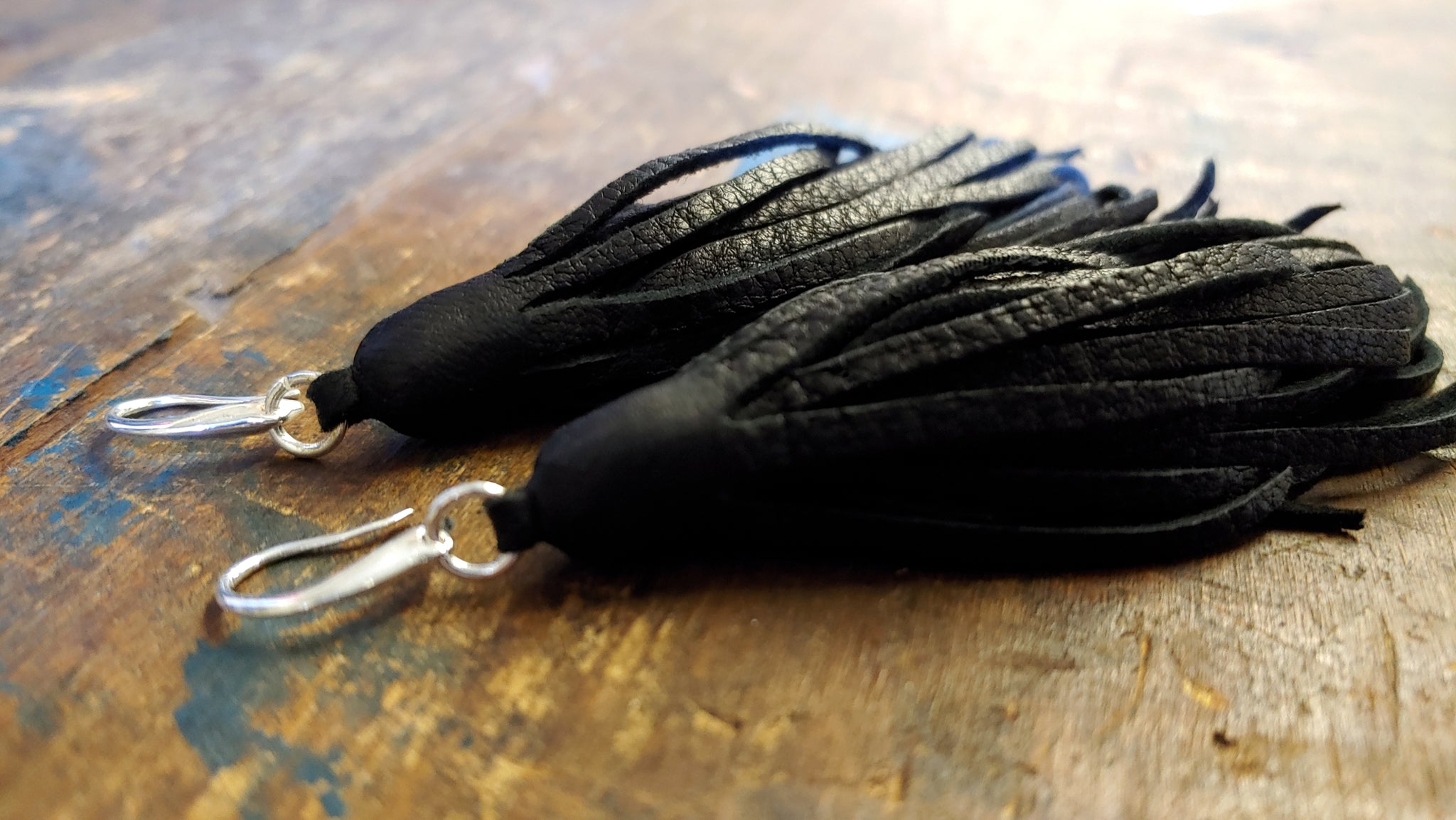 ◘ baby K I M A N I ◘ [beautiful, sweet]
In African tribal culture, earrings hold magical, ritualistic and religious significance. The tassel has been around since biblical times and became a symbol of wealth, power and prestige. My line of Kimani Leather Tassel Earrings are a blend of both (see video for color and length options).
The Details...
Luxurious, top-grade, soft deerskin leather - easy to wear and

 

very

 

lightweight (0.1 ounces).
Each leather tassel is formed by hand - a technique I developed and have perfected.
Hand-cut leather fringe.
Each tassel fall (up towards 50 of them) is trimmed, twisted and pulled by hand to bring out the character of the leather and give these earrings its tribal personality.
Lead & Nickel Free earring wires in your choice of Hook or Lever-back Style.
Your choice of earring wire finishes: Antique Brass, Gunmetal, or Silver Plated.
 Available in: Black, Chocolate, Mahogany, Beige, Mayonnaise, White, Mustard, Lipstick Red, Turquoise, Sapphire Blue, Chocolate/Mahogany, Black/Mahogany, Black/Chocolate.
Each Baby Kimani Tassel Earring measures approximately 3.5" in length including the earring hook and jump ring.
 Artfully assembled ~ Beautifully crafted ~ Heirloom Quality
I make my Kimani Tassel Earrings in different lengths and leather:
Mini-Mini Kimani Tassel Earrings
Luxe Goat Suede Kimani Tassel Earrings
A Little History...
"Seen as far back as biblical times, tassels could be found on garments and heavier items such as blankets and camel rugs. In Egypt, the simple tassel can be traced back to the ancient tombs of the pharaohs. Almost half a world away, the Chinese were known to incorporate them into their woven silks. But it is the French who are credited with the evolution of the tassel into an ornamentation. In the 16th century, the first Guild of the Passementiers was established and so the art of passementerie had begun. Practitioners, known as "Passementiers", had to gain the skill with a seven year apprenticeship in order to become a Master in one of the many guilds." Read more...
Lux Leather...
Deerskin is very high quality and versatile leather. It can go from being wet to dry over and over again and it still will conform back to it's original condition. It is a very soft and supple leather yet deerskin's leather fibers make it abrasion resistant and give it high shear strength. It is also extremely comfy to wear in any temperature; it becomes cooler in warm weather and warmer in cold weather. Definitely a luxurious and fun leather to design with, craft with, and wear!
On the Model...