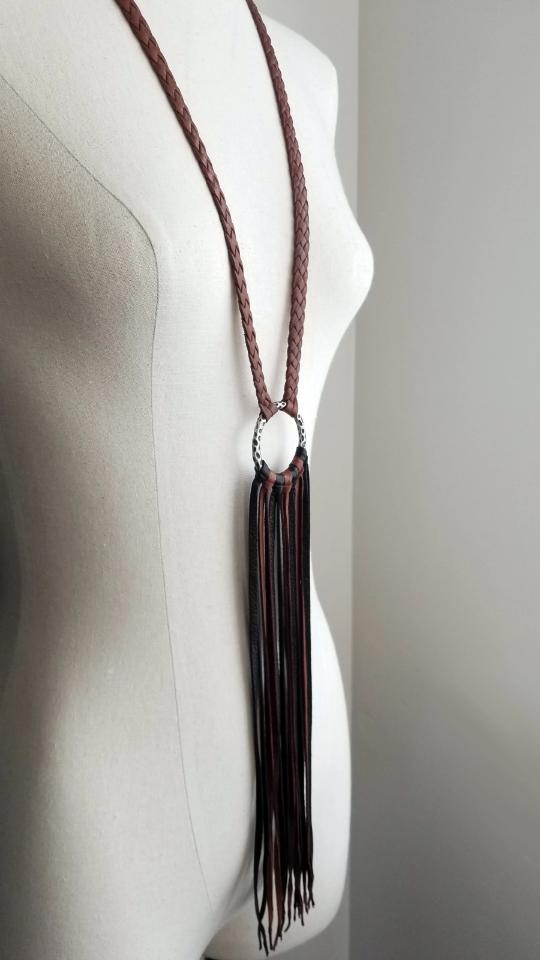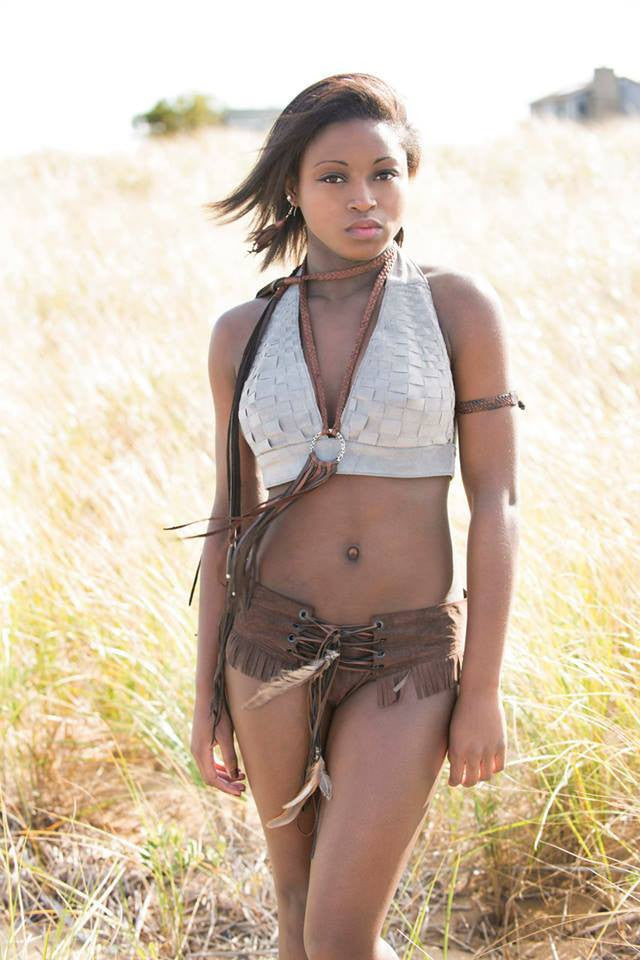 ◘ A I S H A ◘ [life]
Aisha is a long, hand-braided leather necklace whose design is centered around an Old World Hammered Ring, a representation of the "circle of life"; no beginning and without an end, a continuous loop of existence, eternity.
The Details...
Genuine

deerskin leather is hand-cut from the full length of the highest quality hides then hand-braided to form long ties. 

The finished cord length (excluding the fringe tassels ends) is approximately 36" to 48" +/- depending upon the size of the hide. 
The ends of the braided ties are adorned with long flowing layers of hand-cut fringe tassels which are trimmed to a point, manipulated and fluffed to reveal the character and personality of the leather.
The fringed tassels are embellished with Bone Beads, and Silver Globe Beads handmade in Africa.
Old World Silver or Old World Brass Ring.

More genuine deerskin leather is hand-cut and hand-tied to the ring to create long free flowing fringe.

Adjustable and versatile.
Men's and Women's.
COLORS: Chocolate & Mahogany, Chocolate & Black, Black & Mahogany, All Black, All Chocolate, All Beige, All Mayonnaise, All Turquoise, or All Lipstick Red.
Lux Leather...
Deerskin is very high quality and versatile leather. It can go from being wet to dry over and over again and it still will conform back to it's original condition. It is a very soft and supple leather yet deerskin's leather fibers make it abrasion resistant and give it high shear strength. It is also extremely comfy to wear in any temperature; it becomes cooler in warm weather and warmer in cold weather. Definitely a luxurious and fun leather to design with, craft with, and wear!!
On the Model...