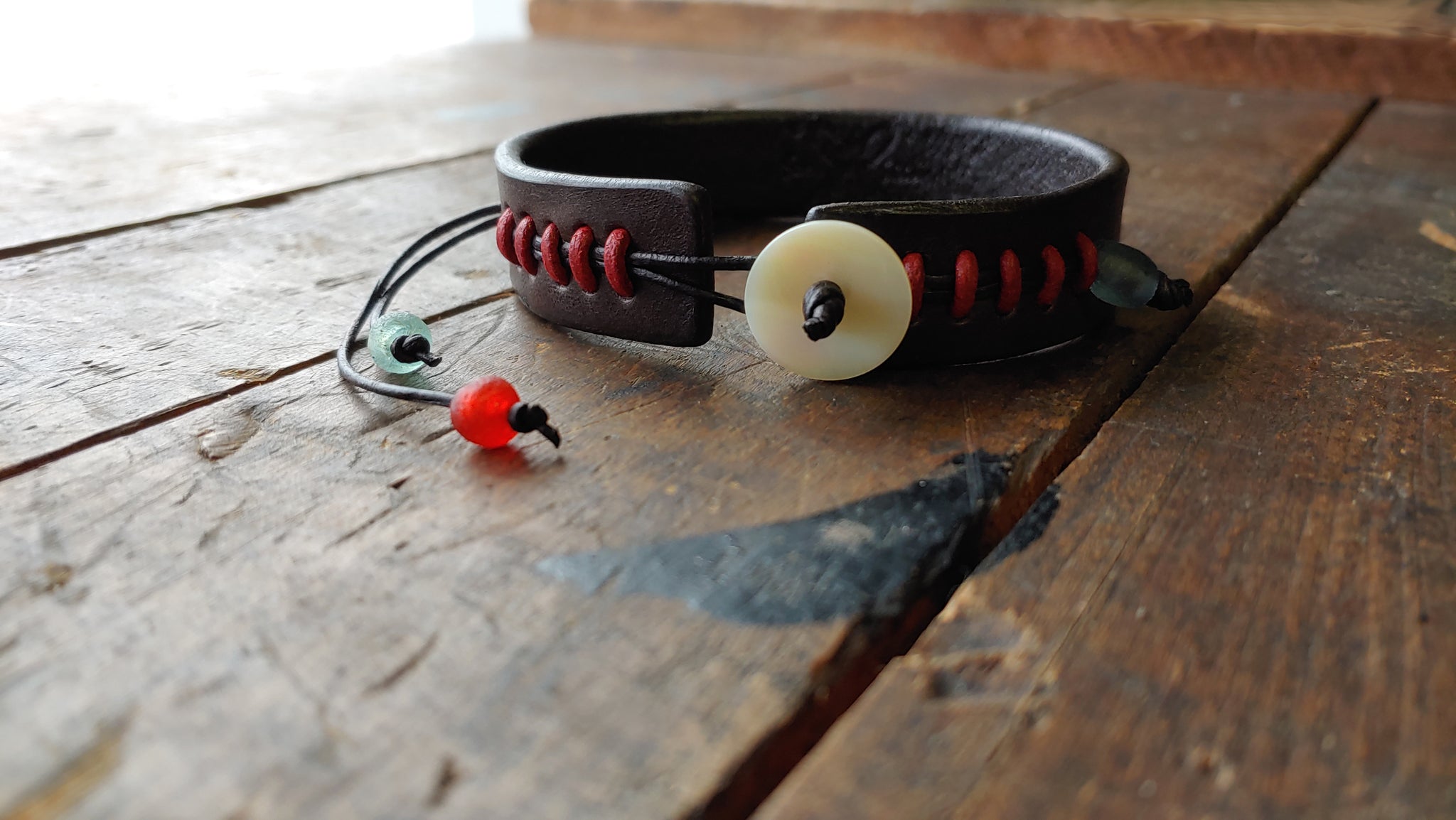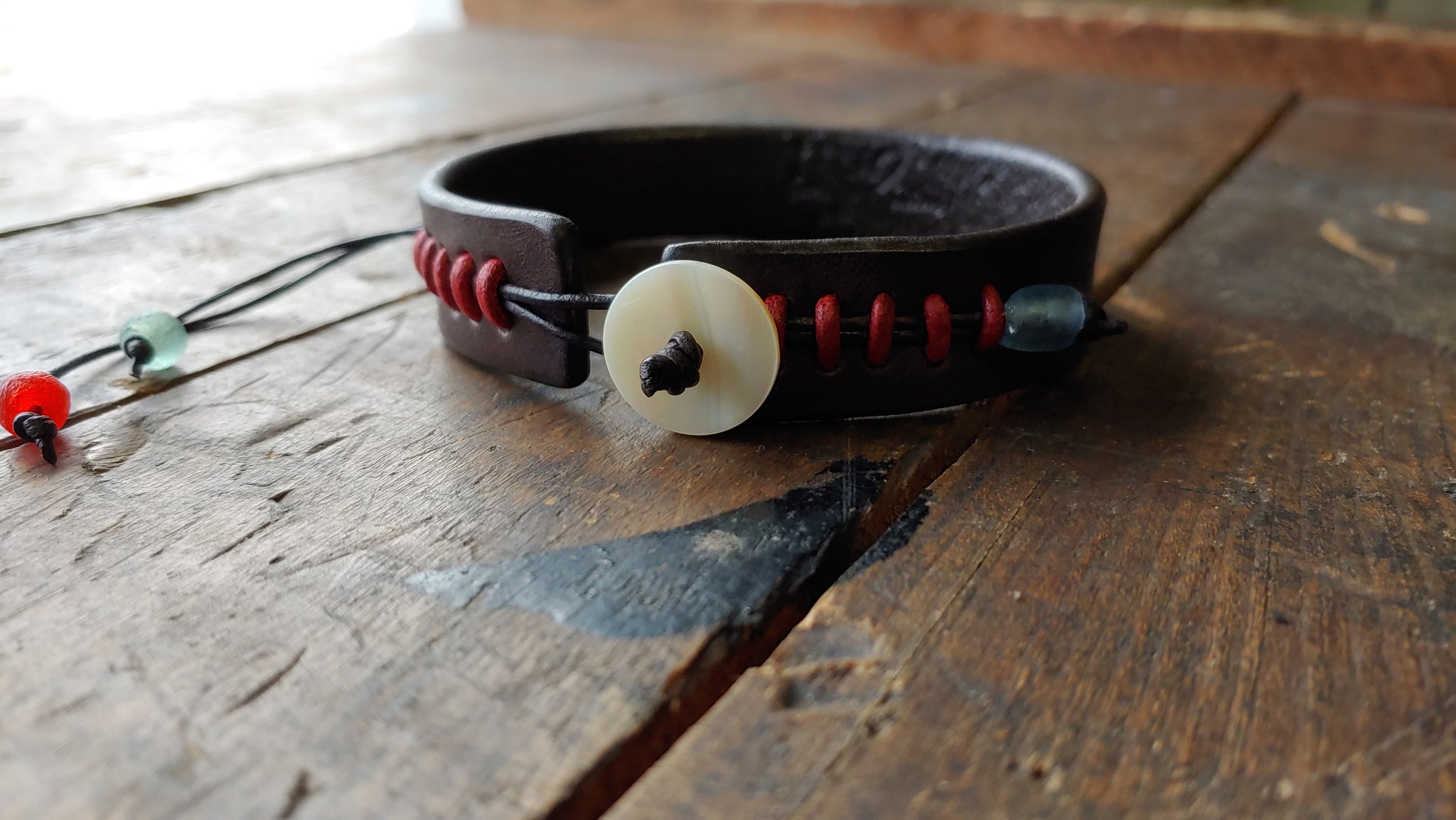 ◘Cliff Booth B R A C E L E T ◘
The leather bracelet Cliff Booth (played by Brad Pitt) wore in the movie, "Once Upon a Time in Hollywood", echoes Cliff's laid-back, Californian, "hippie-ish" vibe. It has been written that "such a specific piece would be difficult to pin down with 100% accuracy", and that's no lie. I studied many photos and watched many of the movie clips (over and over again) in my attempt to create an accurate replica...and I believe I have succeeded! If you are a Cliff Booth lover, a costuming enthusiast, or OUATIH fan, this bracelet will be the pièce de résistance to your collection. 

Made from genuine 5-7 ounce Aztec leather, a 5/8" band is cut, edges sanded and burnished smooth, before its decorated on each side with 2 mm round red leather cord. The red cording on each of the bracelets sides, envelope 1.5 mm brown round leather cording; one side for the loop, and the other to attach a Mother of Pearl disk button, just like the one in the movie. Each of the ends of the brown leather cording are adorned with a recycled glass bead from Africa in the same colors as on the bracelet in the movie; green, blue, and red.
•◘◘◘◘◘◘I M P O R T A N T ◘◘◘◘◘◘• 
The fit of this bracelet is similar to the way Brad wore his in the movie which is loose (he sometimes pushed his up on his forearm). And, there is a space between the strap ends...the edges do not abut. For examples, see the photos in this listing, or check out this blog entry here. 
When selecting a size in the drop down box, please CHOOSE THE WRIST MEASUREMENT that is closest to your actual wrist size...DO NOT ADD EASE OR SLACK to your wrist measurement and DO NOT MEASURE an EXISTING BRACELET (that is not your wrist measurement)...or the bracelet you receive may be too big.  For help with taking an accurate measurement, click here. 
If you prefer to wear your bracelets snug on your wrist, I suggest you order a half size smaller. Please contact me with any concerns, questions, or special "fit" requests Thank you!
 If you like this design but would like it made in other colors, please email me!
The D E T A I L S...
Approximately 5/8" leather band; hand-cut from 5-7 ounce, genuine, Aztec leather; Chocolate Brown.

2 mm Round Red Leather Cording for that hand sewn accent on each side of the bracelet's opening.
1.5 mm Round Leather Cording in brown for bead stringing and loop closure.
1 - Mother of Pearl Disk Button.
3 - Recycled Glass Beads from Africa for accents; blue, green, red.
The Bracelet fit is somewhat adjustable on the blue bead and button side (see video below) however, please choose your wrist measurement (without ease) in the drop down boxes.

Custom sizing is available. There may be a fee for this service. Please contact me prior to ordering for more information.

Artfully assembled ~ Beautifully crafted ~ Heirloom Quality.
Also, please check out my Cliff Booth replica Bund Watchband! It speaks for itself.
Cliff Booth Replica Bund Watchband & Leather Bracelet Set
How to adjust your cliff booth bracelet...