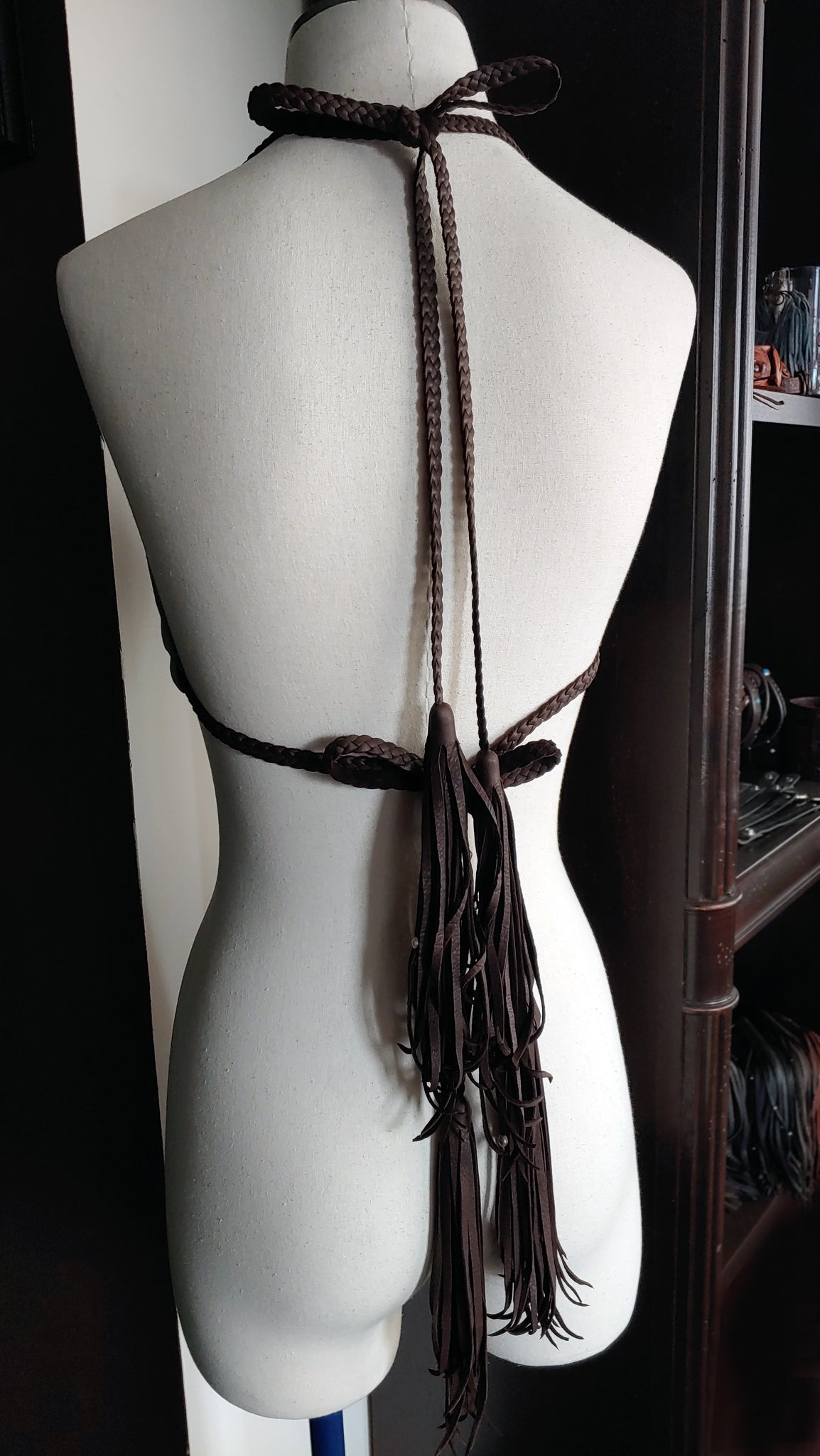 ◘ D A R I C E ◘ [queenly]
In every tribe there is one who will step in front without trepidation - to "be" an example for the others to follow. She should wear this when she does! A deerskin leather bikini top with design details like no other; the straps, bands and ties are hand-braided using more super soft deerskin leather and they are generously long too. Darice gets an extra does of tribal personality with its four, long, leather tassels on each strap end, and each tassel is decorated with handmade metal beads from Africa.
Also available is Darice in Goat Suede. See last two photos.
Darice and Kyra can be purchased together as a Set.
The Details...
An original design and pattern for uniqueness.
The bra/cup portion is hand cut from genuine deerskin leather in your choice of colors: Black, Chocolate, Mahogany, Beige, Mayonnaise, Turquoise, Lipstick Red.
Neck and Bodice straps are cut and braided by hand using super-soft, genuine deerskin leather for durability and tribal style, 

in your choice of color

s: Black, Chocolate, 

Mahogany, or Same as Cup Color.

Neck and Bodice strap ends are capped with handmade deerskin fringe tassels ~ four in total.
Handmade African metal bead embellishments on some of the falls of the fringe.
Available in multiple sizes: Small, Medium, and Large - please refer to size chart for measurements. 
Triangle style bikini top adjusts to fit most cup sizes. For extra large or extra small cup sizes, please leave me a note during checkout with your bra size and I will happily accommodate you. 
Artfully assembled ~ Beautifully crafted ~ Heirloom Quality. 
M E A S U R E M E N T S...
◘ XS/SM
Neck Ties = 27" - 33" (w/out tassels).

Under Bust Ties = 46" (w/out tassels).
◘ M
Neck Ties = 27" - 33" (w/out tassels).

Under Bust Ties = 54" (w/out tassels).
◘ L/XL
Neck Ties = 27" - 33" (w/out tassels).

Under Bust Ties = 62" (w/out tassels).
Lux leather...
Deerskin is very high quality and versatile leather. It can go from being wet to dry over and over again and it still will conform back to it's original condition. It is a very soft and supple leather yet deerskin's leather fibers make it abrasion resistant and give it high shear strength. It is also extremely comfy to wear in any temperature; it becomes cooler in warm weather and warmer in cold weather. Definitely a luxurious and fun leather to design with, craft with, and wear!
On the Model...